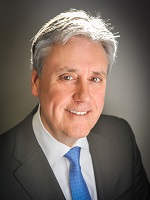 James F. Burgoyne ('82)
Former Managing Director and head of GE Energy Financial Services' Oil & Gas Infrastruture Group

James F. (Jim) Burgoyne is the former Managing Director and head of GE Energy Financial Services' Oil & Gas Infrastructure group, which he founded. Jim developed and managed the group's global common and structured equity investment strategy, execution and management. Jim is based in Kiawah Island, South Carolina.

Recognized as a strong strategic leader with excellent communication, influencing and change management skills. Demonstrated success in building teams and strategies in a global setting while attracting and developing top talent. Jim participated in investment committee meetings for Energy Financial Services across all investing sectors and was a senior advisor to the CEO for matters of strategy, human resources and communication on an enterprise wide basis. From 2007 - 2010, Jim was also a member of the Board of Directors and Chairman of the Executive Committee for Regency Energy Partners (RGNC), a publicly traded master limited partnership based in Dallas, Texas. From 2000 - 2014, in addition to oil and gas related investing, Jim built and led the European team at GE Energy Financial Services, which primarily invested equity in conventional and renewable energy infrastructure assets in countries including Spain, Ireland, France, the UK, Germany, Italy and Turkey. Jim also led EFS investing activities in Latin America on two different occasions.

Before joining GE in 1997, Jim served as an executive director at SBC Warburg. His responsibilities included corporate finance, M&A, advisory and capital markets services for clients in natural resource industries. From 1982 to 1988, Jim was a member of the oil and gas financing group for Bank of Montreal, based in New York.

Jim holds a Bachelor's degree in Commerce with Great Distinction, Concentration in Finance, from McGill University and an MBA in Management with Distinction from the Kellogg School of Management at Northwestern University.