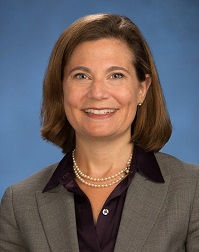 Rachel Schnoll('99)
CEO, Jewish Communal Fund

Rachel brings more than 20 years of financial services experience to her role as CEO of the Jewish Communal Fund. Previously, she was head of FinLife for United Capital, a Goldman Sachs Company. FinLife is a leading end-to-end client experience platform for financial advisors. Prior to joining United Capital, she was head of Retail Product Strategy for GSAM's Americas client business and led a team responsible for the development and ongoing product strategy of mutual funds, collective trusts and closed-end funds. Rachel has served as an officer of the Goldman Sachs Trust and served on various Goldman Sachs product committees. Rachel joined Goldman Sachs in 1999 and was named a managing director in 2013. Rachel is based in New York, New York.

Rachel has been active in the mutual fund industry serving as a member of the ICI Research Committee and on the Product Council of the Mutual Fund Education Alliance and the board of NICSA.

Rachel serves on the board of URJ Eisner and Crane Lake Camps.
Rachel earned a BA in Politics from Brandeis University and an MBA from the Kellogg Graduate School of Management at Northwestern University.