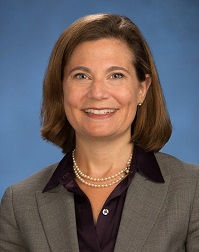 KFN Announces New Advisory Board Member,
Rachel Schnoll ('99),
Head of US Retail Product Strategy - Goldman Sachs Asset Management
Please join us in welcoming Rachel Schnoll to our KFN Advisory Board. Rachel is the Head of US Retail Product Strategy for Goldman Sachs Asset Management's Americas Client Business.

"Kellogg introduced me to the world of finance and gave me the tools to succeed in my career at Goldman Sachs. I joined the KFN to connect with other Kellogg alums who share a common industry and reconnect with the great people and community I met at Kellogg. I'm looking forward to attending my 20th Kellogg Reunion in May."
About Rachel Schnoll:
Rachel is head of US Retail Product Strategy for Goldman Sachs Asset Management's (GSAM) Americas Client Business. The Retail Group offers GSAM's investment products and services primarily to financial intermediaries, who provide advice to retail investors. Rachel leads a team responsible for the development and ongoing product strategy of mutual funds, collective trusts and closed-end funds. Rachel serves on the Structured Investment Products Committee and is an officer of the Goldman Sachs Trust.

Earlier in her career, she was responsible for communicating GSAM's fixed income, asset allocation and real estate strategies to third party clients. Rachel first joined Goldman Sachs as a summer associate in 1998 and returned as a full-time associate in 1999. She was named a managing director in 2013.

Rachel is active in the asset management industry serving as a member of the ICI Research Committee, on the Product Council of the Investment Management Education Alliance and as a board member of NICSA. She also on the board of the URJ Eisner and Crane Lake Camps.

Rachel earned a BA in Politics from Brandeis University ('91) and an MBA from the Kellogg School of Management ('99) at Northwestern University.
Regards,
Jerry Kenney
Managing Director & Sr Advisor, BlackRock
Chairman of Advisory Board, KFN