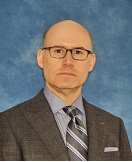 V. Marc Cali ('98JD),

Managing Director - Napier Park Global Capital



Marc is a Managing Director and Senior Relationship Manager at Napier Park Global Capital ("Napier Park"). Napier Park is an award winning, alternative investment firm with a broad range of products including Credit Funds, CLOs, Real Assets and Private Equity. Investors often look to Napier Park for uniquely-packaged credit exposures that offer an attractive absolute return while structurally limiting downside risk.

Marc has over 20 years of experience structuring and marketing alternative investment funds to experienced institutional allocators. Prior to joining Napier Park, Marc was the Senior Managing Director responsible for global marketing and investor relations at Scoggin Capital. Marc also held leadership roles in marketing at Alden Global Capital and Third Avenue Management.

Earlier in his career, Marc was Vice President of the Private Finance Group at Legg Mason, an Associate in the Private Placement Group at Credit Suisse First Boston and began his career as an attorney in the Investment Management Group of Schulte, Roth, and Zabel, the New York Law firm.

Marc earned a BA in Economics from Lehigh University, an MBA from the Stern School of Business at New York University and a JD from the Northwestern University School of Law. He is a member (inactive) of the New York State Bar.