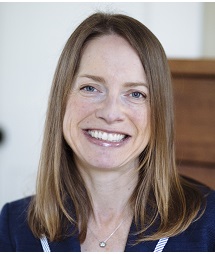 KFN Announces New Advisory Board Member,
Ellen Carr ('99),
High Yield Portfolio Manager - Weaver C. Barksdale


Please join us in welcoming Ellen Carr to our KFN Advisory Board. Ellen is a High Yield Portfolio Manager at Weaver C. Barksdale.

"As a part-time resident of NYC, and a full-time participant in the credit markets, I'm thrilled to be joining a community of alums with a broad range of expertise across financial sub-sectors and careers. It's an exciting opportunity to reengage with Kellogg twenty years out. I look forward to leveraging KFN as an investor and finance professor."

About Ellen Carr:
Ellen Carr is a high yield portfolio manager at Weaver C. Barksdale (WCB), a boutique institutional fixed income management firm. She has two decades of leveraged credit research, analysis, and portfolio management experience through several credit cycles.

Prior to joining WCB in 2013, Ellen was a high yield analyst and portfolio manager at The Capital Group/American Funds from 1999-2012, where she was responsible for $4 billion AUM across Capital's high yield strategies, including a sleeve of its flagship high yield fund (ticker AHITX).

Additionally, Ellen is an adjunct professor at Columbia Business School, where she teaches courses on the credit cycle and cash flow forecasting. She has published articles in the Financial Times, and is co-authoring a book about the dearth of female portfolio managers to be published by Columbia University Press.

Ellen splits her time between Asheville, NC and New York. She is active in her community, serving as a board member of her local NPR affiliate and the national NPR Foundation, the Wilma Dykeman Legacy, the Thomas Wolfe Memorial, and a member of the finance committee of the Western North Carolina Community Foundation. Ellen also manages a family foundation (carrfamilyfoundation.org) which awards college scholarships in rural communities.

Ellen received a BA (magna cum laude, Phi Beta Kappa) from Harvard College and an MBA from the Kellogg School of Management at Northwestern University. She is a Chartered Financial Analyst (CFA) Charterholder.

Regards,
Marten Hoekstra ('94) & Harry Kraemer, Jr ('79)
Co-Chairmen of Advisory Board, KFN