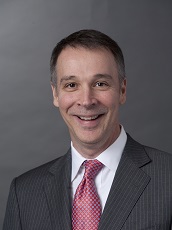 James (Jim)Neary ('92)
Head of Industrial & Business Services Team, Co-head of Healthcare Group - Warburg Pincus

Jim is the head of the Industrial and Business Services team and is the co-head of the Healthcare group for Warburg Pincus. He is a member of the firm's Executive Management Group. During his career at Warburg Pincus, James has led Business Services; Late Stage Technology-enabled Services; Technology, Media & Telecommunications and Capital Markets. Jim is based in New York, New York.

Prior to joining Warburg Pincus, Jim was a Managing Director at Chase Securities, and is currently the Chairman of Endurance International Group and Hygiena, and a Director of Allied Universal, Duravant, Sagent, Sotera Health and WEX.

Among other public and private companies, Jim has previously served on the boards of Fidelity National Information Services, Inc., Interactive Data Corporation, InComm Holdings, Coyote Logistics, EFS (Electronic Funds Source) and Alert Global Media Holdings. He is on the Board of Trustees of The Mount Sinai Health System and The Eaglebrook School. Jim also serves as the Co-Chair of the President's Council at Tufts University.

Jim received a BA in Economics and Political Science from Tufts University and an MBA from the Kellogg School of Management at Northwestern University, where he was the Eugene Lerner Finance Scholar.