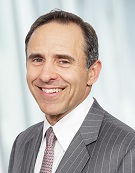 KFN Announces New Advisory Board Member
Parker Weil ('95)
Vice-Chariman of Investment Banking, Cowen, Inc.

Parker is the Vice Chairman of Investment Banking at Cowen, with responsibility for managing the firm's Strategic Capital Group. Strategic Capital is a coverage group that focuses on direct investment transactions for Private Equity firms, Family Offices, Sovereign Wealth Funds and other Financial Sponsors.

Prior to joining Cowen, Parker served as Managing Director and Head of the Industrials and Natural Resources investment banking group for Stifel Financial Corp. In addition, he served on Stifel's investment banking executive committee. During his almost three decades in investment banking, Parker has served as an advisor, underwriter and placement agent on dozens of initial public offerings, add-on financings and merger and acquisition transactions.

Parker currently serves on the Board of Directors of 180 Degree Capital Corp. and has served on the board of trustees of the Ridgewood Lacrosse Association, Maroons Soccer Club and Ridgewood Education Foundation.

Parker holds a BA from the University of Pennsylvania and an MBA from the Kellogg School of Management at Northwestern University.