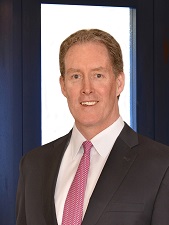 KFN Announces New Advisory Board Member
Gerry McGinley ('92)
Managing Director, Warburg Pincus

Gerry is a Managing Director with UBS Private Wealth Management. He is a seasoned financial advisor, having helped family offices, boards and organizations manage their wealth for more than 25 years. Gerry is a leader of a 10-person wealth management team that manages nearly $1.5 billion of client assets, with special expertise working with family offices and private business owners. Drawing upon the global resources of UBS, Gerry works with clients to address their banking, investing, trust and estate, lending, and philanthropic needs and goals.

Gerry joined UBS after spending more than 20 years with Credit Suisse Private Banking (previously Donaldson, Lufkin & Jenrette), where he led a team that advised ultra-high net worth individuals, families and not-for-profit organizations on all aspects of wealth management. While at Credit Suisse, Gerry earned Chairman's Club recognition many times for achieving top production. Earlier in his career, Gerry was an equity trader with Kidder Peabody and previously taught high school history at Avon Old Farms School in Avon, CT.

Gerry earned a BA in Economics from Hobart College and an MBA from Kellogg School of Management at Northwestern University.