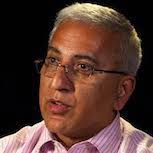 The Future of Global Banking and Financial Services
Fireside Chat with Somesh Khanna ('98), Senior Partner, McKinsey & Company, and David Koh ('99, JD'99), MD, Bank of America
SOLD OUT
Thursday, Feb 13, 2020
Time: 6:00pm - 8:30pm
Location: PJT Park Hill, 280 Park Avenue, New York, NY
**Open presentation and reception for all Kellogg/NU Alumni**

Somesh Khanna, a Senior Partner and coleader of McKinsey & Company's banking and securities practice, will share insights on McKinsey's 2019 Global Banking Annual Review. The report argues that as growth slows, banks around the world need to urgently consider a suite of radical organic or inorganic moves before a downturn occurs. He'll discuss what that means in terms of exposure for financial services, and the implications for banking clients.

Somesh brings more than 25 years of experience in financial services to his work, helping clients strengthen their businesses. Previously, he led McKinsey Digital for financial services globally. He has a proven track record of helping companies build and scale new capabilities, and of the power of digital and advanced analystics to create greater value and enhance performance.

David Koh is a Managing Director, Chief Investment Office, Global Wealth & Investment Office, Bank of America. He is a senior member of the Chief Investment Office, which has thought leadership, diligence and portfolio managment responsibilities for $160 billion of proprietary models for Bank of America Global Wealth and Investment Management.

Cocktails and networking will follow the presentation. Thanks to our host Darren Schluter ('07), Principal, Park Hill Group.