The Transition to Sustainability
Wednesday, December 7th
5:30 pm
Piva Capital
4 Embarcadero Center, Suite 3950
San Francisco
With Suzy Taherian ('95), Chief Financial Officer, Xpansive; and Sanjiv Malhotra, Founder and CEO of Sparkz, Inc. and former Director of the DOE's Energy Investor Center. A realistic transition to environmental stability will be a long and gradual process. Join us for a discussion with two leaders in the field.
Meet Our Speakers
Suzy Taherian
Suzy Taherian is the CFO of Xpansiv. She has served as CFO for numerous public and privately held companies in energy, industrial, and cleantech, completing more than $3B in M&A and $4.5B in financing transactions.
Taherian was recently CFO of electric-vehicle company Wrightspeed, winner of the World Economic Forum Technology Pioneer award. Previously she was CFO of Kinetics, a global engineering firm, doubling their revenue in three years. She completed a successful exit for glass-manufacturing company eCullet, helped develop an exchange for construction equipment with Noble Iron, and completed more than $4B in transactions for Chevron.
She is a contributor to Forbes Magazine and is a board member at NewHold Industrial Corporation.
She received her BS in Mechanical Engineering from University of California, Davis and her MBA from the Kellogg School of Management.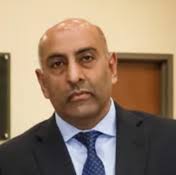 Sanjiv Malhotra
Dr. Sanjiv Malhotra is the founder and CEO of Sparkz—the battery start-up reinventing the energy supply chain. Malhotra has been a leader in the energy sector for nearly three decades as a founder, investor and executive. Most recently, he served as the inaugural director for the Energy Investor Center at the U.S Department of Energy (DOE), serving under both Democratic and Republican administrations.
At DOE, Malhotra led the Obama Administration's initiative to boost public-private partnerships to accelerate the commercialization of technologies developed in national research centers like Oak Ridge National Labs.
Malhotra was recruited to the Department of Energy after a successful exit of Oorja Protonics—the world leader in methanol fuel cells—which he founded and led as CEO for 10 years. Oorja raised $50 Million in equity financing from leading VCs such as Sequoia, DAG Ventures, Artis Capital and others during his tenure. He boosted Oorja's revenue and profitability growth, while expanding operations globally in Japan, China, South Africa, Mexico, and India.
He began his career as a post-doctoral fellow at the renowned Lawrence Berkeley National Labs on electrochemical storage systems. Dr. Malhotra has authored seven patents and more than 40 publications in various fields of energy storage technology and materials. He holds a PhD in chemical engineering and an M.B.A from University of Iowa.